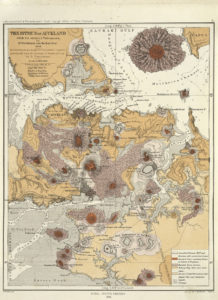 ross.roberts@aucklandcouncil.govt.nz.
---
New field guide for rapid post disaster building usability assessment – geotechnical
MBIE has published a field guide to accompany two existing field guides for post disaster building assessments for earthquakes and for flooding.
This Field Guide "Rapid Post Disaster – Geotechnical assessment toward building usability" has been produced to assist geotechnical professionals in the assessment and categorisation of land instability in conjunction with a rapid building assessment process during a State of Emergency or during a lesser event in special circumstances.
The geotechnical component of a rapid building assessment process involves the rapid assessment of the impacts of land instability on commercial, industrial and residential buildings that could affect the safety of people. This is the third in a series of field guides that target a uniform approach to rapid building assessment.
Rapid post disaster building usability assessment – geotechnical
Rapid post disaster building usability assessment  – earthquake
Rapid post disaster building usability assessment – flooding
---
NZGS website library.
We would particularly like to thank all those who gave such comprehensive and useful feedback, including:
Shane Strode-Penny – WorkSafe New Zealand
Kevin Hind – Tonkin & Taylor
Eleni Gkeli, Darrel Oosterberg, Christine Parkes, Dave Dennison, Steve Cooke, Doug Mason, Ella Boam, Jon English, Helen Davies, Robert Bond, Ken Read, Roger High, Lisa Bond and Reagan
Knapp – Opus
Brian Tracey – DataTran
Ross Paterson – Beca
Phillip Falconer – Perry Drilling
Paul Carter – ENGEO
Greg Haldane, Ann Neill, Martin Gribble, John Donbavand,
Illya Kautai and Andrew Spittal – NZ Transport Agency
Further improvements are likely as lessons are learned using the specification in practice. Advice on how to provide feedback is also available here.
---
NZGS/MBIE Geotechnical Modules Workshop Thursday 27 November, 2017
A one day Workshop covering the Earthquake Geotechnical Engineering Modules prepared by NZGS and MBIE will be held immediately before the NZGS Symposium in Napier, in November.
The day will include presentations by the authors, and discussions based on the comments received back from members on each of the Modules. Comments on the documents are requested in advance from members In order to facilitate these discussions and to address the most challenging issues pertinent to practitioners. The expectation is that sufficient comments will have been received on the published modules to highlight the most significant areas of concern to members, which
can then be targeted in the Workshop.
Please send comments to Modulefeedback@nzgs.org, and you can register for the Workshop at the Symposium Website www.nzgs2017.co.nz.
---