Our management committee comprises elected members, co-opted and appointed members, and ex-officio members representing past committees and our international societies.
Elected Committee Members
Each elected member is voted for by the full NZGS membership, and appointed at our AGM for a two year period.
Past Chair – Eleni Gkeli
Email: eleni.gkeli@stantec.com
Eleni is an Engineering Geologist, with 26 years of experience in the geotechnical profession. She has a BSc in Geology, an MSc in Rock Mechanics and Foundation Design and a further MSc in Tunnel Design and Construction. Eleni has experience in a variety of large infrastructure projects in Greece and in New Zealand.
Eleni's experience in Greece primarily comes from the largest motorway project constructed in Europe in the 2000's, the 670 km long Egnatia Motorway, where she had the opportunity to be involved in the design and construction of large-scale earthworks and structures such as bridges and tunnels. Eleni has been working in New Zealand since 2012, mainly for WSP (former Opus) and currently for Stantec as a Senior Principal Engineering Geologist and Geotechnical, Pavement and Structures lead in the Wellington office. Eleni has been involved in a variety of infrastructure projects in the transport, water and building sectors across New Zealand, including the design of new highway routes and maintenance of existing road networks, seismic upgrade and maintenance of bridge and tunnel structures, slope design and slope stabilisation works, assessment of slope stability related risk, etc. Eleni has been an elected member of the NZGS Management Committee since 2016 and has been assisting the Society in a variety of roles, mainly associated with training, organising events and the local geotechnical Symposium in 2021. She has also been the Treasurer and vice-Chair of the Society, before taking on the role of the Chair for the 2021 – 2023 term.
Chair – Philip Robins 
Email: chair@nzgs.org
Philip has over 30 years' international experience in geotechnical engineering, with wide-ranging involvement across the infrastructure, buildings and industrial sectors. He is a Technical Director and Principal Geotechnical Engineer at Beca in Wellington, leading multi-disciplinary teams on large-scale, high profile and complex projects.
Vice-chair – Ioannis Antonopoulos
Email: ioannis.antonopoulos@stantec.com
Ioannis is a Chartered Geotechnical Engineer specializing in large infrastructure and development projects. His expertise lies in working within interdisciplinary teams for both design and construction, with a particular focus on geotechnical earthquake engineering design, water reservoirs, roading, ports, seawalls, surface and deep foundations, cut and cover structures, tunnelling slope stability, hydrogeology and water resource management. I am an active volunteer for Engineering NZ as a Practice Area Assessor.
Treasurer Emilia Stocks
Email: treasurer@nzgs.org
Emilia is a chartered geotechnical engineer with over 14 years of experience covering various geotechnical and civil projects in New Zealand, Hong Kong and the UK. She has experience in working on complex problems, especially in the analysis, evaluation and design of liquefaction mitigation options and complex foundations. She also oversees techincal issues investigations and and resolution as a Risk Specialist.
Richard Justice
Email: rjustice@engeo.co.nz
Richard is a Principal Engineering Geologist at ENGEO, and an expert in geotechnical risk assessment, large-scale landslide investigation, stability assessment and strategic management, engineering geomorphology, rock mechanics with particular respect to slope and tunnel stability, and geotechnics for corridor projects.
Outside of work you will find Richard skiing, biking, boating or fishing.
Martin Larisch
Email: mdlarisch@gmail.com
Martin Larisch is a Geotechnical Engineer with more than 25 years of international design and construction experience. He is based in Waikanae (Kapiti Coast), where he works as an Independent Consultant and Expert Witness on various geotechnical, piling, ground improvement and retaining wall projects across New Zealand and the Asia Pacific Region. Martin obtained his University Degree in Civil Engineering in Germany, a Master of Advanced Concrete Technology in Leeds (UK) and a PhD in Geotechnical Engineering from The University of Queensland in Brisbane, Australia.
Since 2020, he is a member of the expert panel to revise the NZGS/ SESOC Piling Specifications and he is also the current Chair of the NZGS Climate Change Resilience and Adaptation Group.
Jesse Beetham
Email: jbeetham@tonkintaylor.co.nz
Jesse is an Engineering Geologist (PEngGeol) at Tonkin & Taylor, and an expert in geotechnical risk assessment, large-scale liquefaction vulnerability assessments, landslide investigation and modelling, geomorphic and geological mapping, and natural hazard assessment and mitigation.
Outside of work, prior to 2021, you will find Jesse fishing, hiking, hunting, or gardening. Post 2021, you will find Jesse chasing his 2.5 year old child.
Liam Wotherspoon
Email: l.wotherspoon@auckland.ac.nz
Liam is a Professor in the Department of Civil and Environmental Engineering at the University of Auckland. He has held an academic position in the department since 2009 and has been involved in the teaching of a wide variety of geotechnical engineering courses. His research also covers a range of geotechnical engineering areas and extends into structural and infrastructure engineering. He has worked with a number of professional organisations to translate the outputs of his research into practice and support the evolution of best practice
Co-opted Committee Members
From time to time our committee needs support from specialists, and can co-opt these to the committee to fulfil specific roles. These include the lead co-editor of NZ Geomechanics News and the Young Geotechnical Professionals representative.
Christoph Kraus
Email: ygp@nzgs.org or christoph.kraus@beca.com
Christoph is the current NZGS YGP representative. He is a chartered Engineering Geologist at Beca in Wellington, and his key interests include analysing complex geology, as well as the assessment and mitigation of natural hazards. Christoph has conducted fieldwork in a range of different geological settings in New Zealand, Patagonia, Samoa, and Antarctica. Outside of work, his interests include travel, exploring the outdoors, football, and photography.
Camilla Gibbons
Email: editor@nzgs.org
Camilla is the current co-editor of NZ Geomechanics News. Camilla is a Principal and engineering geologist with Aurecon. She worked in the UK before moving to New Zealand in 2008 "for a year". The Canterbury earthquakes inspired what has now become her real interest in geohazards and rockfall in particular. Camilla has since enjoyed working on projects combining this with her other interest of improving efficiencies and improving safety by the effective use of digital technology.
Robert Kamuhangire
Email: editor@nzgs.org
Robert is the current co-editor of NZ Geomechanics News. Robert is a principal geotechnical engineer with KGA Geotechnical Group, based in the Christchurch office. He previously worked in the UK predominantly on large infrastructure projects, prior to arriving in New Zealand in 2012 to be part of the Christchurch rebuild.
Jordan Moll
Email: j.moll@babbage.co.nz or website@nzgs.org
Jordan is the Website Manager on the management committee. Jordan is a chartered geotechnical engineer and the Geotechnical Engineering Manager at Babbage Consultants Limited.
Wendy Weng
Email: wendy.weng@aurecongroup.com
Wendy is the Website Manager (sharing the role with Jordan) on the management committee. Wendy is a geotechnical engineer at Aurecon in Auckland. Her experiences include assisting in the geotechnical design of retaining walls, shallow/deep foundations and ground improvement, and geological modelling.
Appointed Committee Members
The Management Secretary is appointed by the Management Committee to provide administrative support to the committee, and is the first point of contact for enquiries and new members.
Teresa Roetman
Email: secretary@nzgs.org
Teresa is our secretary, coordinator of all our efforts and the main reason we get anything finished. Teresa is based in Auckland and lives up in the Waitakere Ranges
Ex-officio Committee Members
Our past chair stays on the committee as an ex-officio member to mentor their replacement and ensure continuity.
The NZGS committee is also supported by the Australasian Vice Presidents of the International Society for Rock Mechanics (ISRM), the International Society for Engineering Geology and the Environment (IAEG) and the International Society for Soil Mechanics and Geotechnical Engineering (ISSMGE). Traditionally Australia and New Zealand have taken turns at each of these roles. When the Vice President is Australia based we appoint a local NZ representative to liaise with the VP and to represent the views of the international society at our committee meetings. You can find out more about each of the societies here.
IAEG NZ liaison – Ross Roberts
Email: ross.c.roberts@gmail.com
Ross is an engineering geologist in Auckland, involved in projects ranging from geohazard studies to geotechnical design, construction and management.
He has twenty years' experience in the management, planning and supervision of geotechnical and civil engineering projects, including leading teams of up to 20 engineers and managing multi-year consulting projects. He has worked for consultants and contractors in the UK, Indonesia, Australia and NZ on projects including major highway construction, railway asset management, water pipeline scheme assessments, landslide assessment and remediation, microtunneling and bridge foundation design and now works for Auckland Council as their in-house geotechnical specialist and Head of Engineering Resilience.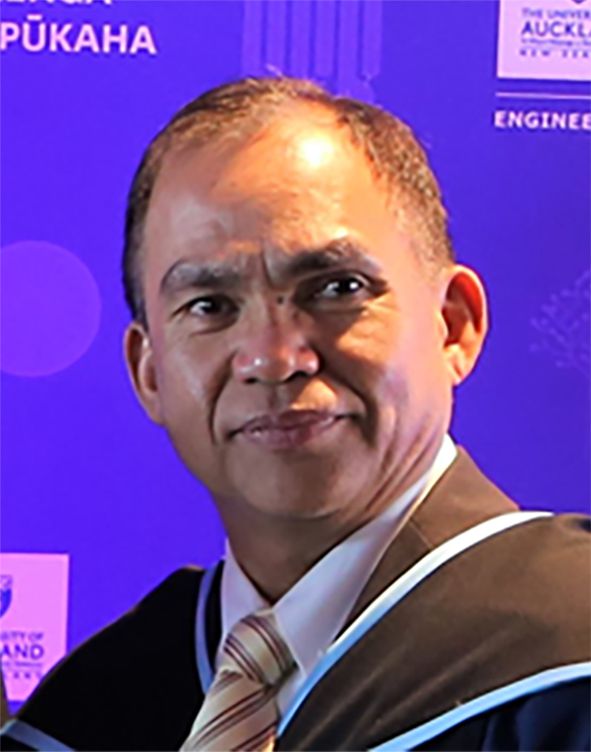 ISSMGE NZ Liaison – Rolando Orense
Email: r.orense@auckland.ac.nz
Rolly is a Professor at the Department of Civil and Environmental Engineering, University of Auckland, and currently the Deputy Head of Department (Academic).
He received his BSCE (cum laude) and MSCE degrees from the University of the Philippines and a Doctor of Engineering degree from the University of Tokyo (Japan). Before joining the University of Auckland in 2007, he also served as an Instructor at the University of the Philippines and as an Associate Professor at the University of Tokyo and Yamaguchi University (Japan). Moreover, while working with top-notched geotechnical consulting firms in Tokyo and Manila, he worked on a variety of complex soil engineering projects in Japan, Singapore, and the Philippines.
He is a registered professional engineer in the Philippines and in Oregon (United States) and a Chartered Member of Engineering NZ.
ISRM NZ Liaison – Paul Horrey
Email: paul.horrey@beca.com
Paul is an engineering geology and rock mechanics specialist with 30 years of experience working predominantly in professional services consultancy. He is a Chartered Professional Engineer (Geotechnical) with the Institute of Professional Engineers New Zealand, and a Chartered Geologist with the Geological Society of London.
Regular Guests
Some non-voting members may be invited to our committee meetings where appropriate, including the second NZ Geomechanics News co-editor
.