News In Brief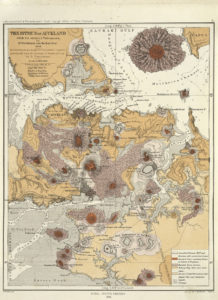 Mapping Auckland
Interpreting the geology of New Zealand cities is a critical part of understanding and planning to mitigate geological hazards such as landslides and earthquake-vulnerable ground conditions, to locate and manage geological resources such as aggregate and groundwater, and to plan the future growth of our urban areas. GNS is beginning to compile new geological maps of urban areas using a mix of conventional 2D surface mapping and its integration with subsurface information obtained from existing borehole data to create 3D geological models.
Auckland Council is keen that any new maps are undertaken in a way that will meet the needs of the geotechnical industry and maximise the use of existing data. We will be facilitating communications between GNS and the local industry and welcome your involvement.
Please send suggestions for your mapping requirements, or proposals for how you may like to be involved in the mapping project, to ross.roberts@aucklandcouncil.govt.nz.
---
New field guide for rapid post disaster building usability assessment – geotechnical
MBIE has published a field guide to accompany two existing field guides for post disaster building assessments for earthquakes and for flooding.
This Field Guide "Rapid Post Disaster – Geotechnical assessment toward building usability" has been produced to assist geotechnical professionals in the assessment and categorisation of land instability in conjunction with a rapid building assessment process during a State of Emergency or during a lesser event in special circumstances.
The geotechnical component of a rapid building assessment process involves the rapid assessment of the impacts of land instability on commercial, industrial and residential buildings that could affect the safety of people. This is the third in a series of field guides that target a uniform approach to rapid building assessment.
Rapid post disaster building usability assessment – geotechnical
Rapid post disaster building usability assessment  – earthquake
Rapid post disaster building usability assessment – flooding
---
NZ Ground Investigation Specification
The editorial panel are delighted to announce that the feedback on the draft New Zealand Ground Investigation Specification has now been taken into account and incorporated into the Specification. All four volumes are now available online in the NZGS website library.
We would particularly like to thank all those who gave such comprehensive and useful feedback, including:
Shane Strode-Penny – WorkSafe New Zealand
Kevin Hind – Tonkin & Taylor
Eleni Gkeli, Darrel Oosterberg, Christine Parkes, Dave Dennison, Steve Cooke, Doug Mason, Ella Boam, Jon English, Helen Davies, Robert Bond, Ken Read, Roger High, Lisa Bond and Reagan
Knapp – Opus
Brian Tracey – DataTran
Ross Paterson – Beca
Phillip Falconer – Perry Drilling
Paul Carter – ENGEO
Greg Haldane, Ann Neill, Martin Gribble, John Donbavand,
Illya Kautai and Andrew Spittal – NZ Transport Agency
Further improvements are likely as lessons are learned using the specification in practice. Advice on how to provide feedback is also available here.
---
NZGS/MBIE Geotechnical Modules Workshop Thursday 27 November, 2017
A one day Workshop covering the Earthquake Geotechnical Engineering Modules prepared by NZGS and MBIE will be held immediately before the NZGS Symposium in Napier, in November.
The day will include presentations by the authors, and discussions based on the comments received back from members on each of the Modules. Comments on the documents are requested in advance from members In order to facilitate these discussions and to address the most challenging issues pertinent to practitioners. The expectation is that sufficient comments will have been received on the published modules to highlight the most significant areas of concern to members, which
can then be targeted in the Workshop.
Please send comments to Modulefeedback@nzgs.org, and you can register for the Workshop at the Symposium Website www.nzgs2017.co.nz.
---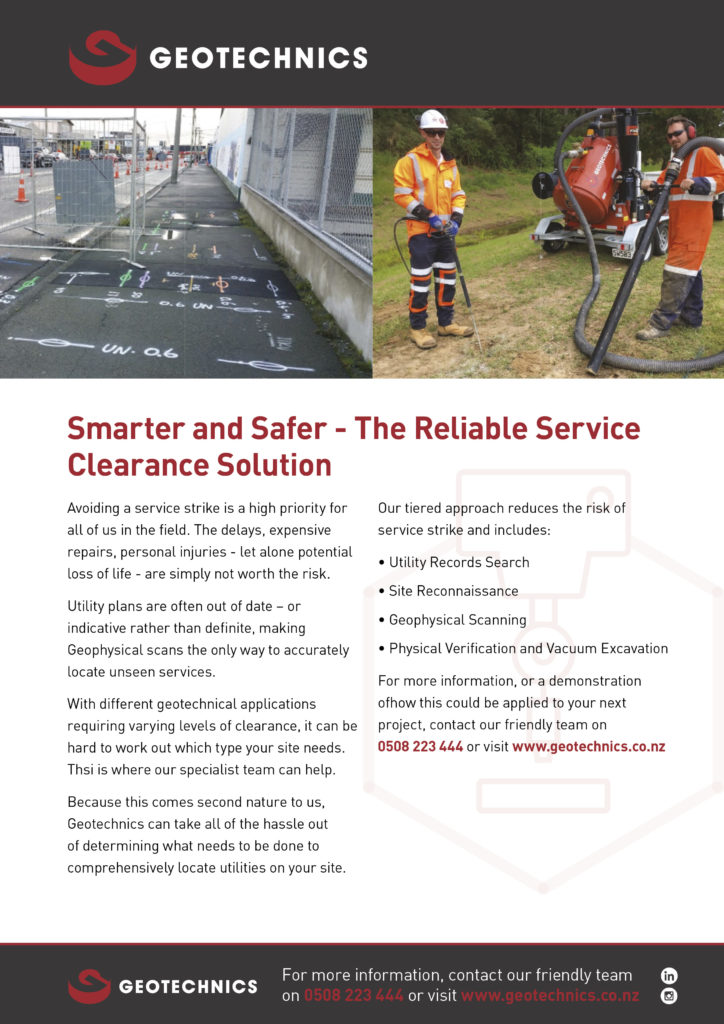 Soil and Rock Celebrates 30 Years!
This year Soil & Rock Consultants is celebrating its 30th anniversary of service to New Zealand businesses and developers. Soil & Rock was founded in 1987 and started with only a couple of staff.
Soil & Rock Consultants currently has 51 technical staff operating from 3 offices throughout New Zealand. They operate an integrated management system with full administrative support provided centrally from the Auckland head office. The Christchurch office was initially established to provide services following the 2010/11 Christchurch earthquakes and continues to provide services in that region following effective completion of earthquake related work. The Whangarei office was recently established to provide better support to Northland roading-related work which they have carried out since 2003.
Soil & Rock Consultants have carried out geotechnical engineering work for clients throughout New Zealand, including central government organisations, regional and territorial authorities, industrial and commercial property owners and developers, infrastructure providers and residential property owners and developers. The geotechnical team undertakes a full range of geotechnical investigation, interpretation of information obtained from field testing, formulation of design and development recommendations, design of geotechnical related structures, construction monitoring and testing and formal documentation related to geotechnical construction aspects.
The holding company, Geotechnical Engineering Ltd, which owns Soil & Rock Consultants, is 100% owned by senior employees. This ensures progressive and planned renewal at ownership and management level and has, in part, been a reason for the longevity and success of Soil & Rock Consultants.
They are very proud of their 30-year heritage and growth and continue to add substantial experience to the technical team. The most recent additions include:
Andrew Irvine – Principal Geotechnical Engineer with over 25 Years of experience in New Zealand and Overseas
Ilai Waqa – Senior Engineering Geologist, joined Soil & Rock late last year with more than 20 years experience in New Zealand and Overseas
Raymond Lo – CPEng – Senior Geotechical Engineer, highly experienced geotechnical engineer with expertise in computer modelling using Plaxis, Wallup etc.
Sharon Tenger (Vujnovich) – Senior Environmental Scientist with more than 20 years of experience in soil contaminated land, hydrogeology and engineering geology.
Mark Sinclair – CPEng – Principal Geotechnical Engineer, the most recent addition to our geotechnical team. Mark is highly experienced with over 20 years on major projects across New Zealand.
---